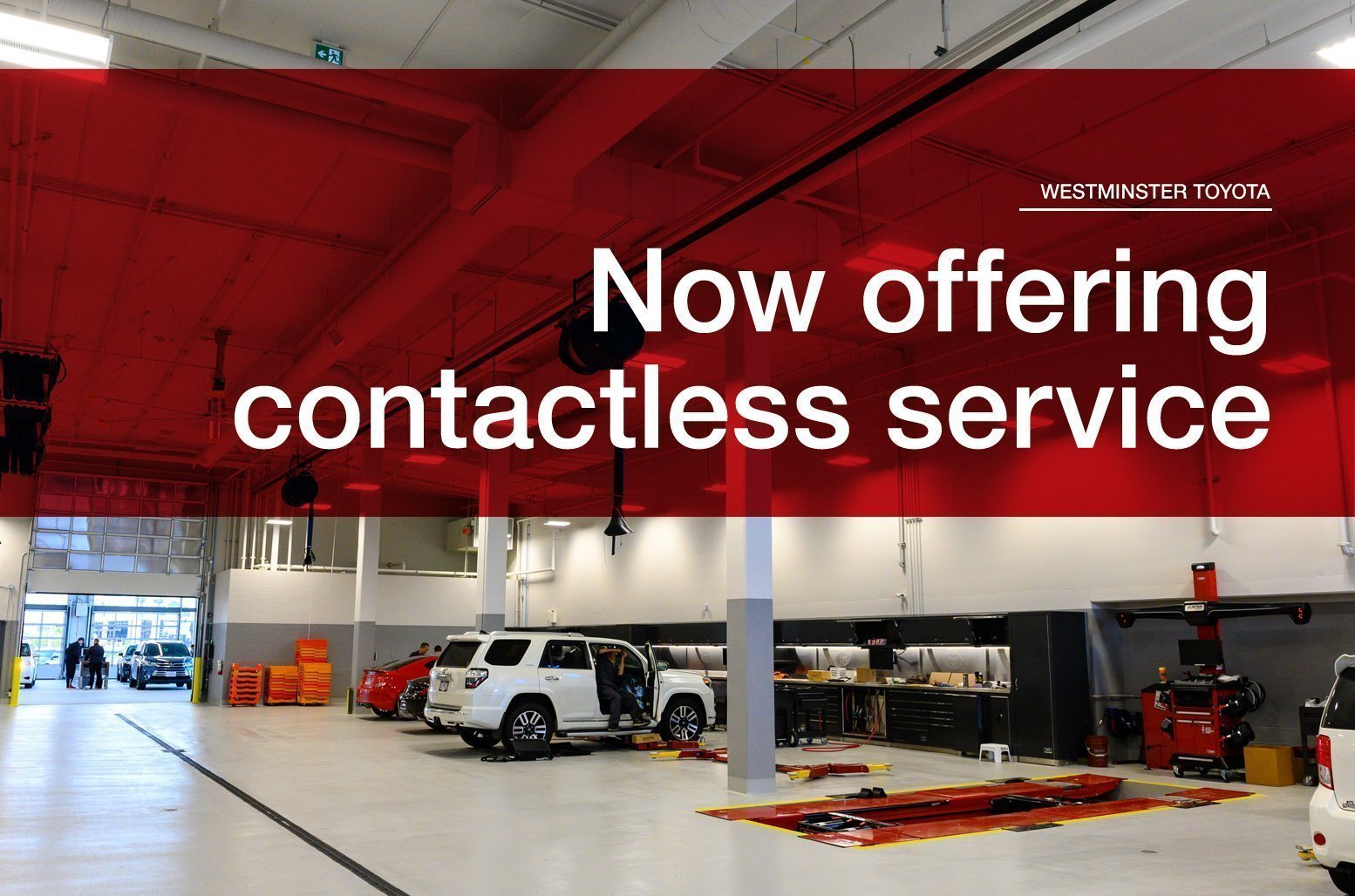 Our Service Commitment - 
At Westminster Toyota, we're committed to providing the highest level of service and products to our customers. We want to assure you that our team is continuing to follow the recommendations from our local, provincial and national health authorities.
To learn more about steps the Westminster Toyota Service Centre is taking to protect customers and staff, as well as our support for the Royal Columbian Hospital Foundation, click
HERE. 
Contactless Service FAQ - 
Q: Can my vehicle be safely serviced at Westminster Toyota in the time of Covid-19?
A: Yes! We are doing everything in our power to keep you and our employees safe. Safety is our number one priority.
Q: Can I drop my car off for service?
A: Absolutely! You can book your appointment online. Drive your vehicle to Westminster Toyota and park in the customer service area (beside service drive thru). Drop if off the night before or at the time of your appointment. Place your keys in an envelope provided and drop them in the secure dropbox. Give us a call if you drop off during the daytime so we know your car has arrived. We will complete the service and give you a call when your car is ready for pick up. You can pay over the phone or coming soon…a secure online payment option. Lastly, pick up the keys at the service reception desk.
Q: What is Westminster Toyota doing to help me stay safe when I bring my car to the dealership?
A: We have spaced out service appointments so we are limiting the number of guests at the dealership. Please come at your specified time or drop your vehicle using the secure drop box to help keep everyone safe.
Q: How do I safely interact with the service advisor?
A: When you arrive at Westminster Toyota you can drive your car right into the service drive. A service advisor will show you where to stand (2 m from him/her) safely at check in. You can leave the keys in the drop box on each service check in desk to avoid contact..
Q: How can I safely sign the work order?
A: We do not need you to sign at this time.
Q: What happens to my car next?
A: Your keys will be disinfected. Your car will have its door handles, steering wheel, shift knob and start button wiped down with disinfectant. Then we will place a steering wheel and seat cover on the vehicle.
Q: How does the technician service my car without touching it?
A: All our Toyota trained technicians wear disposable gloves at all times and steering wheel and drivers seat covers are in place to allow for touchless service.
Q: Where can I safely wait for my car at the dealership?
A: We have two waiting areas in the service department plus a waiting area in the showroom. We have also safely spaced chairs around the showroom. Seating has been organized to allow safe social distancing from others while you wait. We have free wifi in the dealership as well as cable TV that you can watch.
Q: Will you be providing a no-charge car wash and vacuum?
A: We have started to offer an optional car wash, again. A car wash attendant will take your car through our automatic car wash while wearing gloves and using the seat and steering wheel covers. We are not offering vacuuming at this time.
Q: Are you doing extra cleaning at the dealership to keep your guests safe?
A: You bet! We are doing hourly cleaning of door knobs inside and outside the dealership, waiting areas, disinfecting surfaces around the building and cleaning debit/credit machines after every use.
Q: How can I safely pay for my service?
A: The debit or credit machine has tap and if your bill is larger you can rest assured that we clean the machine after every use. The service receptionist will be 2m away from you while she checks you out.